Upon your first visit to Caroline Manuel Orthodontics you will receive a thorough and complete examination. This initial screening visit is free of charge. The examination includes the following:
Full set of digital photographs & x-rays

Should treatment be necessary, a complete set of diagnostic records will be recommended.
Treatment estimate also provided.

Analysis of facial & skeletal type

All findings & recommendations will be explained to in easy to understand terms
Assessment of facial growth

Cosmetic & functional goals are tailored to the specific needs of each patient.

Examination of the bite

Alignment of the teeth, health of the soft tissues, function of the jaw joints and adjacent supporting structures
Should you have a problem with your braces, please see the Problem & Solution boxes below. 
Problem:
Loose Bracket or Loose Band
Solution:
If the bracket or band is still attached to wire, leave in in place. If it becomes uncomfortable, cover with wax. If it comes out completely, bring it with you to the next appointment. Call for an appointment. Do not connect headgear or elastics to a loose band.
Problem:
Lost tie or bumper
Solution:
Please call to ask if an appointment is necessary. Notify the assistant at your next appointment.
Problem:
Headgear or appliance doesn't fit
Solution:
Call for an appointment
Problem:
Soreness from braces
Solution:
Rinse mouth with warm salt water (for lip and cheek soreness.) Anti-inflammatory for pain.
Solution:
Try to place wire back into tube with tweezers. Place wax if uncomfortable and call for an appointment.
Solution:
Bend with pencil eraser. Cover with wax if necessary.
Solution:
Cover with wax or wet cotton. Call for an appointment.
Problem:
Accidents involving teeth
Solution:
Call immediately to make an appointment.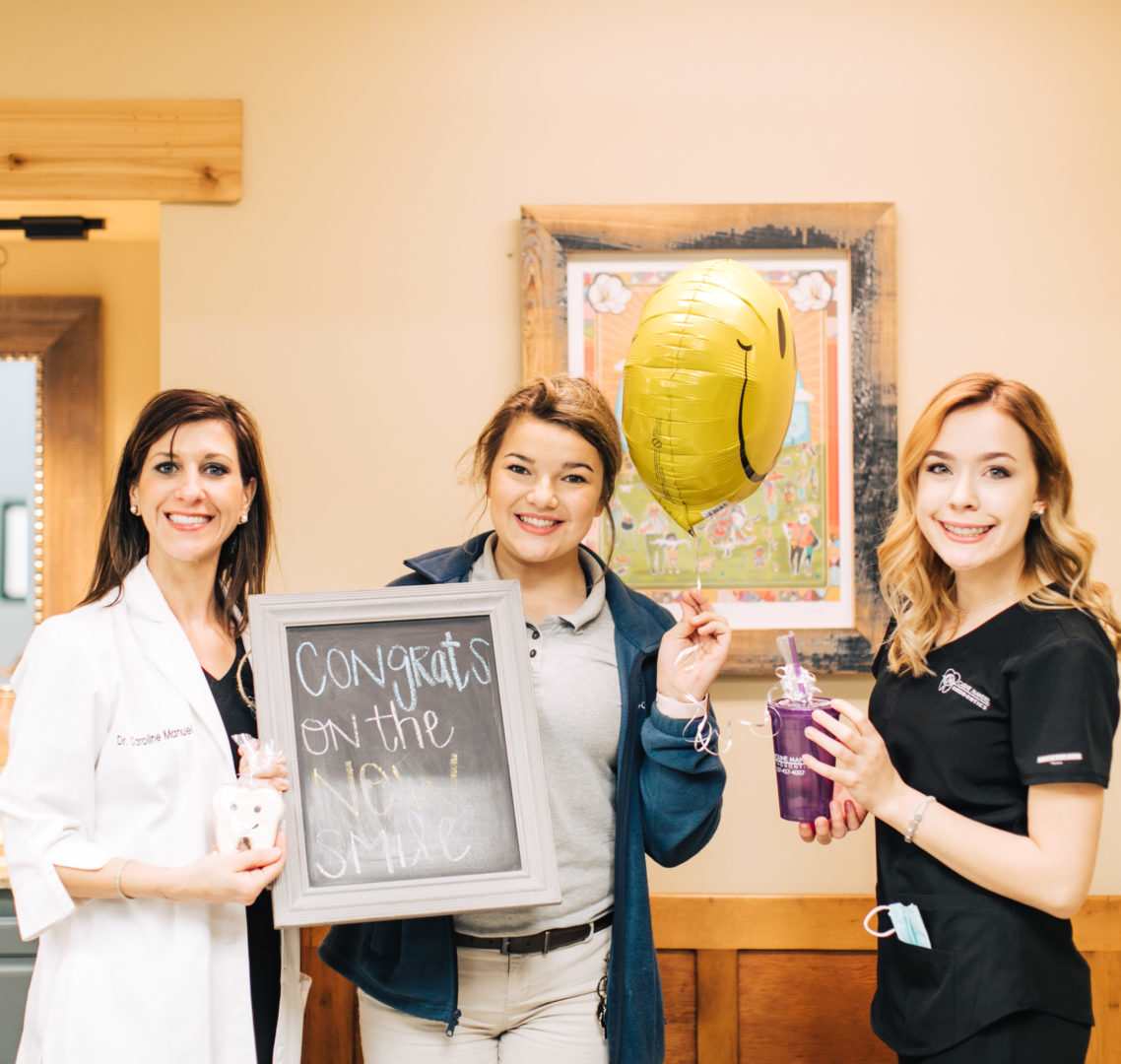 When should my child see an orthodontist?
blueprintpcomm
2019-03-18T21:39:13-05:00
The American Association of Orthodontists recommends that age 7 is an appropriate time for a child's first examination by an orthodontic specialist. Early diagnosis and treatment by the orthodontist can help tooth eruption, guide facial growth, eliminate habits that can interfere with proper function and therefore, prevent more serious problems from occurring.